Opening hours
Term Time availability:
Sun 14:30-21:30 AVAILABILITY,
Mon at 13:00 or 21:00 (Urgent only),
Tue 13:00~15:00 AVAILABILITY.
Wed at 14:00 or 21:00 (Urgent only),
Fri OR Sat 18:30~21:30 AVAILABILITY.
With variations in School Holidays
and by arrangement for emergencies
Massage/ Training Qualifications

Emergency First Aid (Sept 2018)

Kinesio Taping for Sports & Massage Therapists (Sept 2017)
HABC Level 3 Award in Education and Training (QCF) (July 2014)
Infant Massage Instructor (Oct 2010)

Ear Candling with Hopi Ear Candles (Feb 2011) (also known as Auricular Ear Therapy, with Biosun candles)


Thai Foot Massage Practitioner (Mar 2009)


Level 3 (A Level) VTCT Sports Massage Therapy (Jun 2007)


Distinction in Aromatherapy Diploma (Regent Academy) (Mar 2007)


Indian Head Massage (trained with Nixie James-Scott) (Feb 2006)


Level 3 (A Level) VTCT Diploma in Swedish Body Massage (inc First Aid) (Jul 2005)

Level 3 (A Level) Credit in ITEC Anatomy and Physiology (May 2004)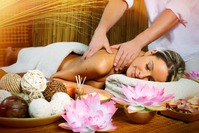 Reiki/ Holistic Qualifications

Degree Level 3 Reiki Master (Feb 2019 - After 6~10 years of apprenticeship)

Violet Flame Workshop (Mar 2008)

Therapists Degree of Reiki (Nov 2007) (including treatment of pets)

Numerology (May 2006)

Reiki Development Class (Dec 2005)

Colour Therapy (20 hours) (Jun 2005)

Dowsing Level 2 (Mar 2005)

Degree Level 2 Reiki Refresher (Nov 2004)

Level 2 Credit in Introduction to Counselling Certificate (Jul 2004)

Basic Dowsing Level 1 (Apr 2004)


Degree Level 2 Reiki (Sep 2003)

Degree Level 1 Reiki (Jan 2003)
We will help your body to relax and your mind to unwind. Come to enjoy the best massages in the area.